Fun things to do in Destin, Florida
Attractions For Couples in Destin, Florida
Places to check out when traveling as a couple to Destin, Florida
Gulfarium Marine Adventure Park Admission Tickets
Admission to the Gulfarium Marine Adventure Park in Fort Walton Beach, Florida
See & learn about regional wildlife like stingrays, gators, penguins, turtles & more
Interactive aquarium with spectacular dolphin & sea lion shows
Daily educational seminars & lectures from wildlife experts
Onsite food concessions & retail establishment
 ACTIVITY HIGHLIGHTS
Admission to the Gulfarium Marine Adventure Park in Fort Walton Beach, Florida
See & learn about regional wildlife like stingrays, gators, penguins, turtles & more
Interactive aquarium with spectacular dolphin & sea lion shows
Daily educational seminars & lectures from wildlife experts
Onsite food concessions & retail establishment
Destin X Jet Ski/Waverunner Rentals - Departing From Destin Harbor
Take in the beautiful sights Crab Island or cruise the Choctawhacthee Bay with a stylish and high-speed jet ski. Destin X Jet Ski/Waverunner Rentals are versatile and sleek. They allow for 2 passengers to ride along so there is no better way to experience the freedom of Destin's majestic ocean. Zip through the waves, look for dolphins, or coast to Crab Island for an action-packed day of waves, fun, friends and the sun. Take off from Destin Harbor and enjoy the local attractions. Book your ticket to adventure and fun in the sun today!
 ACTIVITY HIGHLIGHTS
Destin X Jet Ski/Waverunner Rentals in Destin, Florida
Cruise & set your eyes on the beauty of Destin Harbor & Choctawhatchee Bay
Speedy & stylish Yamaha Jet Ski Rentals
2 passengers can ride on 1 Jet Ski
Proposal OR Anniversary Sail
If you are looking for the perfect place to propose or to celebrate a special anniversary, then look no further. Sail atop the gorgeous water with your significant other and enjoy this peaceful and magical outing. The natural beauty of the landscape around you is the perfect backdrop to pop the big question. Spend quality time with your other half without any distractions as you celebrate your love. Create memories to take with you for the rest of your life, book your Proposal or Anniversary Sail today!
 ACTIVITY HIGHLIGHTS
Proposal or Anniversary Sail for up to 6 passengers departing from Fort Walton Beach, Florida
Spend some quality time with your significant other
The perfect backdrop for popping the big question or celebrating that special someone
Create special lifelong memories
Beach Bonfire Rental & Setup
End your perfect day of fun in the sun with a relaxing bonfire on the beach! Relax by the fire, listen to the waves crash on the beach, roast a marshmallow or three, and enjoy the company of your favorite people. Let a dedicated professional do all the work for you while you sit back, relax, and enjoy every moment of this awesome beachside bonfire experience!
 ACTIVITY HIGHLIGHTS
Enjoy a relaxing bonfire by the beach
Can take place at many public beach accesses in Walton County
All supplies for the fire are provided and an attendant will set it all up
Destin Parasailing Adventure
There is nothing like the thrill of parasailing! It is a breathtaking way to see the spectrum of color and spectacular views over gorgeous Destin, Florida. Get a bird's eye view of the beaches and jetties, the Gulf, sea turtles, dolphins, and more. With your professional captain and crew, you can expect breathtaking takeoffs and super smooth landings right from the boat deck. Create memories that will last a lifetime and book your parasailing trip today!
 ACTIVITY HIGHLIGHTS
Parasailing Adventure in Destin, Florida
Soar through the sky at heights of up to 400 feet
Unique way to see the Emerald Coast from above
See marine life such as dolphins and sea turtles
Up to three people can fly at once
Destin X Parasailing - Departing From Destin Harbor
Join in on the excitement with the Destin X crew in Destin, Florida for a parasailing adventure. Experience the thrill of flying high while admiring the emerald green waters below. The crew has flown thousands of happy passengers in the past decade. You will see why parasailing is one of Destin's top activities. Create memories with Destin X and book this exciting adventure today!
 ACTIVITY HIGHLIGHTS
Destin X Parasailing – Departing From Destin Harbor in Destin, FL
View Destin from a bird's eye view over the majestic water
See the wonderful sights on the water & along the coast
Great experience for family & friends
Experienced captain & crew
The Stoked Comedy Hypnosis Show
What will happen next? Not even "The Terrys" can predict the outcome as they pull one hilarious skit after another out of their endless bag of tricks. From curtain open as Stokes takes the stage he sets the crowd at ease with his warmth and humor. While explaining what hypnosis is and isn't, in an entertaining manner, the audience's curiosity is piqued as they all participate in 'suggestibility tests' designed to awaken their awareness of the possibility that they too could experience this phenomenon and ultimately become the star of the show. Stokes, a master showman, asks for volunteers, and hands shoot in the air from those eager to participate. A lightning fast hypnotic induction follows and then the party begins. New, fresh, topical material added daily plus different people every show insures that you will never see the same show twice.
In many hypnosis shows you will see, the hypnotist wants to demonstrate how powerful they are…the opposite is true at STOKED COMEDY HYPNOSIS as they want to show you how truly powerful YOU can be by unlocking your subconscious mind. Not just a show, but an entertainment experience! Book today!
 ACTIVITY HIGHLIGHTS
The Stoked Comedy Hypnosis Show in Destin, Florida
Adult show for guests ages 18+ that contains adult language & adult situations
Unforgettable hypnotism & comedy show
Audience participation encouraged
No two shows are the same
Ideal activity for date night or group outing
The MAXIMUM MAGIC Show Starring Noah & Heather Wells
Don't spend another night in your condo with nothing to do; head to HarborWalk Theater for some family fun! "Entertainers of the Year" and "Illusionists of the Year," Noah and Heather Wells present MAXIMUM MAGIC, Destin's only magic show with mind-blowing illusions, hilarious comedy, special effects, unbelievable mentalism, and more! This family friendly, fast-paced, 90-minute show with audience participation is perfect for all ages. Experience the magic today!
 ACTIVITY HIGHLIGHTS
The MAXIMUM MAGIC Show Starring Noah & Heather Wells in Destin, Florida
Award-winning cast & show
Great for families & children
Audience participation
VIP Package available (optional)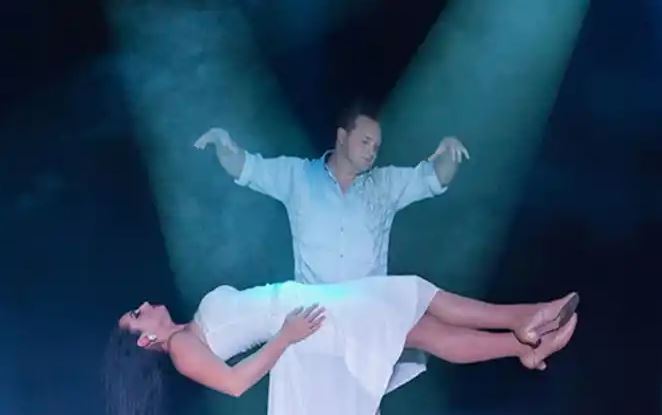 Enjoy the fresh Gulf air as you cruise the Emerald Coast in style with either a 4, 6, or 8 passenger street legal golf cart. Easily zip about and no matter where you end up, make parking a breeze. Make your vacation transportation simple and easy with these gas-powered golf carts! 
 ACTIVITY HIGHLIGHTS
Carts are street legal on roads up to 35mph
Easy mobility to the beach & back
Free delivery & pick-up included
Choose from a 2 day rental or up to a week